Trend tracker: India's sports nutrition, personalised nutrition, and China's e-commerce trends
Here is the round-up of the latest nutraceutical trends in Asia-Pacific, including the rise of new formats, such as energy gels and effervescent tablets in India's sports nutrition sector, personalised nutrition developments across companies and regulators, as well as updates on China's e-commerce trends.
India's sports nutrition sector is seeing the rise of local brands, new product formats, and consumption beyond protein powder as consumer knowledge of the category increases, according to Fast&Up and Steadfast Nutrition.
For example, the two firms have developed carnitine – a substance for converting body fat into energy – into either the liquid or effervescent format, in a bid to provide more options and convenience to consumers.
Fast&Up also said that the firm has been trying to expand the types of ingredients that could be incorporated into the effervescence format.
Asia-Pacific's personalised nutrition sector is seeing new developments across company innovations and regulatory oversight.
New Zealand-headquartered Fonterra, for example, has invested in a US biotech specialising in microbiome-targeted products for restoring metabolic health.
Bayer, on the other hand, said it would look to tie-ups between its flagship supplement brands and its newly formed precision health group.
Health supplements in the form of effervescent tablets have a "better lifestyle association" and are receiving interest from pharmaceutical firms and health practitioners for an ability to contain a larger amount of active ingredients in one dose, says Mumbai-based Fullife Healthcare – the parent company of brands Fast&Up.
In the past five years, the company's effervescent tablets production had grown at a CAGR of 40 to 45 per cent, Snehal Shah, CEO of Fullife Healthcare Pvt Ltd told NutraIngredients-Asia.​
Although functional gummy is often seen as an option for new product development, Snehal believes that effervescent tablets could stand out from the competition due to its "better lifestyle association" ​and by offering a "good experience."​
Calcium was one of the bestselling health supplement on cross-border e-commerce (CBEC) in China, while the top spot went to probiotics on domestic e-commerce platforms during Q1 this year.
This is according to the report titled "Platform performance in China's Online Health Supplements market Q1 2023" produced via the partnership of Health Products Association-China (HPA-China) and Shanghai-based data service provider Early Data.
Supplement sales were up 23.9 per cent on a volume basis as compared to the same period last year. China e-commerce giant JD and PDD – famous for its huge discounts – were leading sales growth in Q1 2023.
The booming online sales of nutritional products in China, which Blackmores says is largely due to hype-based promotions and social media advertising, signifies a need for stricter supervision to ensure credibility.
Blackmores China shared its observations on the country's nutra space at the Healthplex Expo and Natural & Nutraceutical Products China 2023 (HNC 2023) held in Shanghai during June.
Although the health foods sector has flourished and health awareness among Chinese consumers had reportedly increased post-pandemic, Kitty Liu, managing director of Blackmores Group (China), believes that there is still a significant information gap to bridge.
Free Whitepaper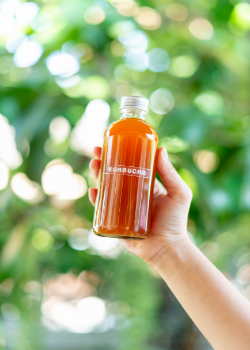 Kombucha and Probiotic Juices in the APAC Region
Boost your business success! Download our free whitepaper for expert insights on consumerengagement and influencing factors.

Download Now