'Humanisation' shaping functional, natural and sustainable pet nutrition trends in APAC
The 'humanisation' of pets is shaping increasing demand for premium, sustainable, hypoallergenic and human-grade ingredients in pet food and treats in the Asia-Pacific region.
According to Euromonitor research, the APAC region is the 'next frontier' for pet food with huge projected growth.
While US largely dominates the pet food market at US$99bn, APAC is estimated to grow at a CAGR of 7.42% to reach US$26.09bn by 2025, from US$18.24bn in 2020, reported by Market Data Forecast.
In an interview with NutraIngredients-Asia​, Marianne Warnaer, director of global sales at Biomega, said: "The APAC region is increasingly looking towards premium indulgence, healthy lifestyles and foods that focus on enhancing the natural, raw ingredients in pet food and treats, instead of using bulking or binding agents to artificially enhance the appearance, texture or flavour​."
Functional trend​
Warnaer added that functional pet food ingredients that can aid or support healthier lifestyles for pets were some of the biggest drivers of change in this region.
"Given the increase in pet adoption among young families, as companions for the elderly, or from rising incomes from working professionals, pets are now increasingly humanised and are likely to be given supplements to prevent future conditions arising, such as obesity and osteoarthritis, for longer life expectancy​."
Within APAC, Warnaer said China has placed much trust in preventative care for their pets with many pet food brands switching to disease-prevention and functional claims.
For example, she cited local and regional herbs are currently being tested for their functionality in pet digestive health.
Biomega is based in Norway, producing human and pet nutritional ingredients such as hydrolysed salmon protein, salmon oil and spray dried and liquid salmon protein branded under Salmigo.
Warnaer said salmon oil is often recommended by veterinarians to ease joint pain and reduce inflammation associated with heart failure in cats and dogs.
Salmon peptides can increase muscle recovery and generation of energy, improve stomach health and help to lower blood pressure.
Natural trend​
According to Warnaer, APAC consumers also value food safety and quality.
"If it's fresh, uses natural ingredients to preserve the snack's nutritional value, or adds premium value to the product by way of a sustainable production process, it's more likely to gain recognition and success with pet food manufacturers and owners alike​."
Biomega recently collaborated with a Norway-based pet food research facility, Passion4Feed, to study how its ingredients can be implemented into semi-moist pet treats.
The result of the study showed hydrolysed salmon peptides can create a similar binding effect to glycerine, with significant hypoallergenic benefits, high digestibility, good palatability for cats, slight increase in palatability for dogs, and improved throughput during production for manufacturers.
Sustainability trend​
Biomega sources fresh Norwegian salmon parts from the North Atlantic Ocean. This is then separated into parts to be used in salmon oils and hydrolysed salmon protein products (salmon peptides) for use in both human and pet nutrition.
This process allows salmon byproducts to be upcycled, creating a more sustainable process.
Warnaer said the firm has seen growing interest from the premium pet food market in APAC.
"Like the US, the APAC region is being influenced by current global trends, including pet humanisation and premium treats. Sustainable ingredients, 100% pure like ours, that can help support healthy lifestyles in pets are on the rise with owners​."
For Biomega, the current strategy is to expand its presence in the APAC region by working with veterinary professionals, pet food manufacturers and researchers, to incorporate its ingredients into the premium pet food market.
"This will make a considerable difference for cats, dogs, and small animals' livelihoods, so they can remain with their owners for longer and live more sustainably, both now and in the future​."
Warnaer said the firm is planning to launch its salmon peptide powder into the human health food and nutraceutical markets next year.
Linked resource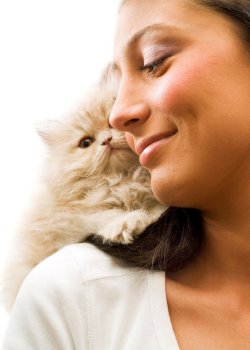 Uncovering White Spaces – Probiotics for Pets
In this report, Lumina Intelligence examines the global online market development of probiotics for animals (predominantly pets), highlighting several opportunities for growth.

Get the report