'Healthier probiotic beverages': Singapore's Curated Culture to set foot into sports nutrition in next phase of NPD
Functional beverage company Curated Culture is looking to raise funds to support its expansion plans in the sports nutrition sector, after experiencing its first taste of success with its dairy- and sugar-free probiotic teas.
The teas are a fruit of labour by food scientists in the Department of Food Science and Technology at National University of Singapore (NUS).
After years of research motivated by the "lack of healthy probiotic beverages" in the market, Curated Culture developed its version of probiotic teas via its patented nektrh probiotic fermentation technology.
"There are several options [in the market] that either contain dairy or high amounts of sugar. Using nektrh, we are able to control the fermentation process to enable the survival of probiotics in a dairy-free and sugar-free medium, while retaining the original taste of tea, without being overly sour or acidic like other fermented products.​
"Each bottle of tea also contains an individual's daily dose of probiotics sufficient for supporting gut health and more,"​ Shermaine Heng, COO and co-founder of Curated Culture, told NutraIngredients-Asia​.
According to Heng, the firm uses the Lactobacillus acidophilus NCFM ​probiotic strain, which is said to be one of the world's most researched probiotic strains, with over 330 clinical studies and more than 60 human clinical trials done on it.
It is also commonly applied in conventional foods such as dairy products and in dietary supplements
"Lactobacillus acidophilus NCFM is a probiotic strain that is backed by scientific evidence, and that has demonstrated gut health benefits as well as stability in the gastrointestinal tract. With nektrh, however, we are not limited to any specific probiotic strain and can apply the technology to a wide variety of other strains.​
"Furthermore, metabolites are produced during the fermentation process. Metabolites are good bioactive compounds that provide various health benefits,"​ said Heng.
At the moment, there are two flavours in Curated Culture's product line-up, namely Probiotic Green Tea and Probiotic Rooibos. Each unopened bottle has a shelf life of about six months when kept chilled.
Going forward, the firm has identified sports nutrition as a category that it will place stronger emphasis on.
"To help consumers achieve their sports and wellness goals, we are expanding our range of better-for-you beverages. In fact, we are developing an ambient stable product with a longer shelf life to widen our distribution modes, thereby increasing the accessibility and availability of our products to more consumers," ​Heng shared. 
Shaping up for next stage​
Unlike kombucha, the production of Curated Culture's probiotic teas does not involve SCOBY, a symbiotic culture of bacteria and yeast (starter) used in the fermentation of kombucha.
The apparent tea flavours, non-fizziness, and zero-sugar content are believed to be important factors that have won over consumers.
Since its launch in January 2022, the firm has sold more than 11,000 bottles, of which 76% took place in the last six months.
Currently, the probiotic teas are available at Curated Culture's website through single purchases or a subscription model, and online marketplace RedMart.
The firm has also been growing its market presence in offline retail by stocking its products at various brick-and-mortar shops across Singapore, including Ryan's Grocery, Food Folks @ Lau Pa Sat, The Green Collective, Kind Kones, and Foreword Coffee.
Although it presently only ships in Singapore, the company has mapped out expansion plans for the near future.
"We are preparing for a fundraising event towards the end of 2023 to fuel our growth and expansion to regional markets in 2024,"​ Heng said.
Free Whitepaper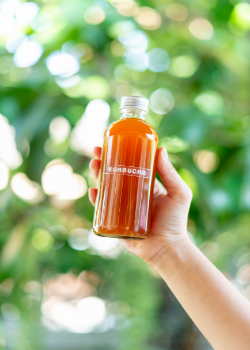 Kombucha and Probiotic Juices in the APAC Region
Boost your business success! Download our free whitepaper for expert insights on consumerengagement and influencing factors.

Download Now